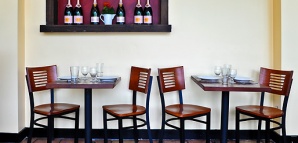 A gorgeous start to the week.

Which inevitably means all you can do is think about what you'll be doing this weekend. So allow us to help with your dinner plans on Friday...

Introducing Chez Jacky, the new Provençal-style French eatery bringing shared plates to the Provençal-less land of Brighton, tentatively opening in a mere four days.

Think of Chez Jacky as a hipper, more casual cousin to the two upscale Petit Robert Bistros in town.

Since Brighton isn't generally thought of as destination-dining territory (and more of "Let's head out for 20 beers in an Irish pub" territory), the owners of Petit Robert Bistro decided to take over the old exposed-brick Zocalo Mexican spot and provide you with a new 100-seat go-to when prowling around Brighton for shared plates of Beef Cheeks Bourguignon, Chicken Crêpes and even the stand-alone PRB favorite 9" Burger Dog on a French baguette (think of it as a Fenway Frank by way of Paris).

And since all forms of hot dog (or any food, for that matter) require ample beer to wash them down, there'll be plenty of ice-cold Kronenbourg (it's France's Budweiser) and Blanche de Chambly on tap, as well as bottle-love from Belgium, Germany, England, France and Canada, best enjoyed leisurely on the outdoor patio.

Before heading out for 20 beers at an Irish pub.