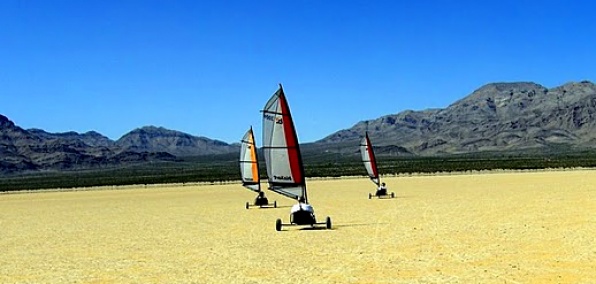 Land. Presumably, you've been.

Sailing. A classic sport of the leisured class, traditionally enjoyed on a body of water.



And before today, you had never dreamed of combining the two. So welcome to today...



And welcome to Landsailing Tours, two insane hours of desert racing in a wind-powered go-kart,
setting off from the Strip today.



It's the kind of thing you typically only see when James Bond's escaping a desert lair. Here's how it works:
every day at noon, a gentleman in a van will round up adventure seekers from the Strip's finest haunts. Hop
on board and they'll have you jetting across the desert in less than an hour.



The locale: Ivanpah Lake, one of the windiest places in America, and the site of the current wind-powered
land speed record (121 mph, if you're feeling ambitious). Your chariot will be a three-wheeled go-kart with
a 15-foot sail welded on top.



Amazingly, no helmet is required as you zip around at speeds up to 55 mph, whipped by dust and highway-level
winds, with little more than a thin strip of metal between you and the sand. If you've already got plans at
noon—or you've got a soft spot for starlit sailing—we suggest shelling out a little extra for a private
voyage that lets you choose the place and time.



Go ahead, make a break for Reno.