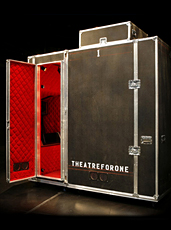 If this month has reinforced our view of anything, it's this: never go to Times Square.
Other than business drinks with the Naked Cowboy, you just have no reason for being there.
And yet, once in a long, long while...
Opening today, in the heart of the Forbidden Zone, is a black box big enough to hold one audience member and one performer. It's called, appropriately,
Theatre for One
.
The journey to reach it is perilous. Be ready to sidestep packs of tourists going crazy for Nuts 4 Nuts.
Head straight for the large black box on 46th and Broadway, where you will be ushered inside to the kind of chair common to 25-cent peep shows. (Not that you know of such things.)
You will be utterly alone. And then the show will begin...
A wall will slide open and you'll be staring at an attractive actress. Or a comic. Or a magician. The performer will launch into a monologue—telling you intimate details of her life. Unlike watching the latest revival of
Mary Poppins
on Broadway, you won't be bored. You can't be bored. Not when this actress is looking you right in the eye, cooing about how much she's missed you.
For 10 minutes you will know an intimacy common only to lovers and fools. The actress will ask you questions. It's up to you to answer them—or not.
As always, you have the right to remain silent.