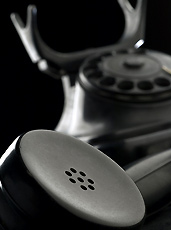 Sometimes, you just want someone to hold you.
And while we're not drawing any conclusions, it's usually right after you've spent a good portion of your day on hold dealing with customer service.
But sometimes you'd settle for someone to hold
for
you.
Meet
LucyPhone
, who doesn't mind handling the phone while you wait for a real-live, flesh-and-blood, oxygen-breathing human being to pick up. And apparently her thirst for elevator music is unquenchable.
Here's how it works: before dialing your favorite 1-800- number directly from the phone, you'll swing by Lucy's website. You'll enter the number, or find it on an exhaustive list of customer service numbers. (Basically, a little black book for masochists.)
Seconds later, you'll get a call from Lucy, who has the company on the line. Type in whatever prompts get you to the hold music the fastest, but once it comes to the waiting part, you'll just enter "**" and hang up. You can monitor the situation on your computer screen, or just go about your daily business. As soon as a customer service agent picks up, your phone will ring.
Go ahead, put them on hold.