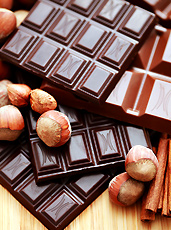 Congratulations: you made it through Monday. We think you deserve a treat.
Like a bacon-almond-edamame bar that, once upon a time, only existed in the fever dreams of the hungry.
Which brings us to
Chocomize
, a place where those dreams come true in the form of insane custom candy bars, online now.
In short, it's like an online chocolate factory, and you're Willy Wonka. (And you're handing out golden tickets.) You'll start simply: dark, milk or white chocolate. And then, you'll enter a wonderland of 100 ingredients, toppings, spices, shavings, chunks and other curious morsels—from the standard (macadamia nuts, almonds) to the crazy (potato chips, Cheerios), to the borderline insane (chipotle peppers). You've always thought your candy bar could use a little more salsa.
Naturally, you can see where this is going: seducing potential mates. She's a vegan: bring her a dark chocolate bar with edamame and vegetarian bacon. She loves candy: sprinkle a couple Gummi Bears and Pop Rocks on top. She's a gun-totin', football-loving huntress: the beef jerky bar might be for her.
Though she might have her own beef jerky already.