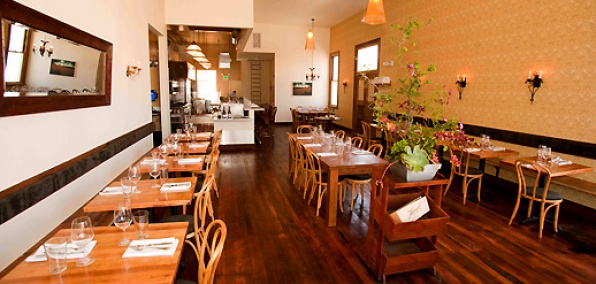 The hidden gem.
You know it when you see it.
But some clues never hurt. Like tables named after mob movies. And underground wine cellars. And—and this is the clincher—the phrases "off-the-menu" and "burger" are involved.
Introducing
Heirloom Café
, a veritable hidden gem of a date spot, opening tomorrow on the outskirts of the Mission.
Set up inside a turn-of the-century corner building, the rustic Victorian dining room feels like it was taken from a Pennsylvania farm—creaky century-old Douglas Fir floors, 1900s-inspired wallpaper and antique teardrop light fixtures. (Sadly, no hay for rolling in.)
You'll want to grab two seats at the corner of the "Godfather table"—big enough for eight, and tucked into the back corner near the double doors. They're ideal for a quick getaway—not that you know anything about those.
If you opt for the
three-course dinner
, they'll handle the wine pairings. But if you choose a la carte, you can run through their 20-odd wines by the glass. Or go deeper with the cellar list—a hundred or two big-time bottles pulled from owner/former RN74 sommelier Matt Straus' 3,600-bottle cellar.
Then, you'll want to pull your server aside and whisper your request for the off-the-menu burger. It's a triple-cream Epoisse cheese and caramelized onion-topped burger on an English muffin. And it's only available in a very limited number each night.
Rumors of a 3,600-burger cellar could not be confirmed at press time.