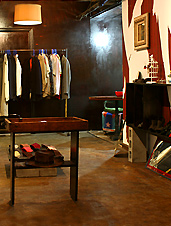 New York is a city of secrets.
Unmarked doors to the
owner's lounge
. A
hidden Havana
overlooking Avenue A. Bourbon in a
juice box
.
Then there is that sidewalk hatch on Ludlow Street.
Unremarkable except for a white stencil reading "CON ARTIST" and a steep set of stairs leading down into the darkness. Do not be afraid. But do watch your head.
Welcome to a genuine underground arts collective.
And when we say arts collective, what we mean is really cool gift shop/clothing store/party space/sweatshop for attractive artist types.
The space is surprisingly airy, for a dungeon. Necklaces swing from petrified branches. Silk-screened T-shirts and handmade belts hang among vintage shirts. The stuff is eminently wearable, or giftable, and almost everything (minus the vintage) is made on-site by members of the collective.
The brainchild of a former manager at Soho House,
Con Artist
artisans pay monthly dues for access to a darkroom, sewing machines and filmmaking equipment. Think of it as a mini-Warhol Factory—without the orgies and the speed—but with regular member votes on whose art is good enough to make it in the shop.
The collective also hosts regular gallery nights, when the hatch is thrown open to a flood of artsy party people. Bring a
flask
, and be ready for a younger, cuter version of Yoko Ono to kidnap you for an impromptu photo shoot. Be ready for this to happen anytime before 7am, which is when the last gallery night ended.
You may want to bring two flasks.