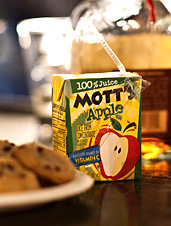 You've popped the cork. Cracked the can. Sipped the flask.
Now it's time to pierce the box...
You know what we're talking about. You met the box years ago. You were younger then, gleaming with a clear-eyed innocence. A time when afternoons were endless, love meant sharing a packet of Fun Dip, and hard drinking meant taking a small plastic straw and stabbing it through the heart of a box of Mott's apple juice.
And now, finally, behold:
Juice Box Cocktails
, available tomorrow at the Anchor's new Thursday night DJ parties.
It is exactly as it sounds. Various juice boxes from your youth have been injected with the one ingredient you somehow always knew was missing: booze.
And as with anything that's worthwhile, don't look for a menu. You have to order these box cocktails by name. We're here to help.
Juice Box:
Apple Juice (aka
An Apple a Day
)
Ingredients:
Starts with a box of Mott's apple juice. Then the injection, via plastic syringe, of bourbon, sour apple mash and cranberry juice. The first sip may cause an intense flashback to grade school. Let it pass. Keep drinking.
Juice Box:
OJ (aka
Cigarette and a Hall Pass
)
Ingredients:
Orange juice injected with tequila and just a drop of blood-like grenadine. And yes, it's served with a single Parliament Light.
Juice Box:
Lemonade (aka
The Hall Monitor
)
Ingredients:
A boxy take on the lemon drop martini, with vodka and elderflower liqueur injected into an unsuspecting box of Minute Maid lemonade. The sweet taste is trumped only by the convenience and portability of the juice box. Forgo the temptation to order one for the road.
Even though the police (probably) won't suspect a thing.