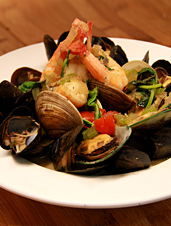 Beer.
It can enhance almost any situation. A ball game. A lazy afternoon. A Tuesday at the office.
And now, it's ready to improve your bowl of shellfish...
Introducing the
Hazed & Infused Mariner's Pot
, the latest development in beer-based deliciousness, now being served at Lou's Beer Garden.
If you've ever sat before a pot of mussels and a glass of pale ale and wondered what kind of magical compound would emerge if you combined the two, this is your answer.
To experience it, you'll want to get yourself over to the refreshingly alfresco poolside beer hall at the New Hotel. As soon as you order up this new menu item, Chef Lou Ramirez will start steaming a heaping batch of New Zealand greenshell mussels and clams in a broth of butter, garlic, basil and onions. Then, just as the sturdy bivalves crack open, he'll add a couple of poached jumbo shrimp and a half cup of Colorado's hoppy Hazed & Infused pale ale to the mix.
When you dig into the results, you'll taste a boozy oceanic stew that marries the briny notes of the shells with the floral and citrus aromas of the beer...
And, of course, you'll want to pair all this seafood goodness with another amber-hued brew or two.
Nothing goes better with beer than beer.