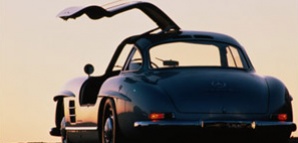 Women are responsible for judging you solely on the basis of your material possessions. The hotter the woman, the more responsibility she has to focus on your watch, your shoes and, mostly, your car.

Isn't it high time, then, you got yourself a membership at the Classic Car Club?

Billed as a "Private Members' Club" for auto enthusiasts, the Classic Car Club was created in London 10 years ago and recently opened its first stateside location in Manhattan. Membership, at $7,000/year (or $20 a day—way less than her Pinot Grigio habit), gets you 24/7 access to the clubroom and its fleet of rare and exotic 4-wheeled beauties and an advisor to help you pick. Say, the '57 Porsche Speedster convertible, if you're headed east; the '89 Ferrari, for speed; the '77 Aston Martin, to court a hippie. And for you, Mario Andretti, other club activities include racing days at Limerock Racetrack and a 72-hour rally to Miami and back.

Truth is, in some ways you'll never have control over the opposite sex, but with the Classic Car Club's arsenal at your fingertips, at the least you'll be steering from the driver's seat.