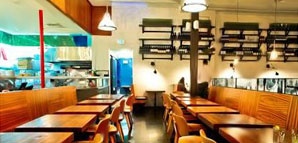 You've heard whispers. "Authentic Italian cuisine"..."all-day café"..."Shereen Arazm"...

And finally, after much hype and a few delays, sun now streams through the open doors at Terroni, now arrived in LA via that bastion of Italian-ness: Toronto.

You may want to brush up on your history to begin. Before Parc/Shag/Geisha House queen Shereen Arazm took over Los Angeles, she was a bright-eyed young waitress/hostess/
bartender/mop-wielder in Toronto's original Terroni. Now, several years—and several successful Hollywood ventures—later, she's a partner in the restaurant's first stateside incarnation. (And she lived happily ever after.)

You'll also want to brush up on your Italian. The to-go market items, wine list and menu are strictly traditional: You'll find signature dishes like Funghi Assoluti, Carpaccio di Manzo and Spaghetti al Limone. The menu is translated into English, but the daily specials on the chalkboard are not, so if your Italian's rusty you'll be relying on your server for help unless you discreetly excuse yourself—the restrooms play language lessons on a loop.

And as for those rules you may have heard about: You can't make reservations or substitutions. Your pizza won't be cut. No regular coffee. No Diet Coke. The sole English phrase written on the back wall proudly proclaims, "We don't do that here."

Luckily, it's near enough you won't have to brush up on your geography.