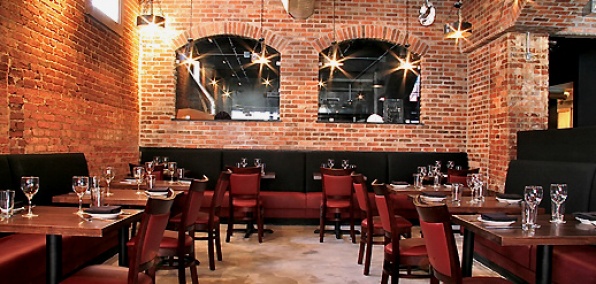 Sidewalks, patios, rooftops. You can appreciate their charms.

But even as the days grow long again, sometimes you want to hunker down somewhere dark, cozy and definitely brick, where you can get to know someone just a bit better.

A Turkish-Greek medieval dungeon should do...

Which brings us to Agora, an Aegean hideaway opening May 10 in Dupont to bring some much-needed epicness to your next date.

Let's call this spot a throwback—to about 800 years ago. You and your date (go ahead, call her a goddess) will enter through the sidewalk patio, and then things will start to feel a bit... well, medieval. (Catacomb-like archways and black-iron lights hanging from chains have that effect.) But at the bar, where cocktails are made with figs and kumquats, and the beers have names like Efes and Mythos, the clock turns back even farther—to ancient times.

You'll be tempted to stay, but soon you'll hear the siren call of the prime table in the front window. There, you'll start a small-plates odyssey with dishes like Charcoal-Grilled Calamari stuffed with shrimp. Consider diving into the 200-bottle-strong wine list, or opt for a lineup of one-ounce "teaser" pours for a buck each. Or go really authentic (and really boozy) and explore their list of a dozen anise-flavored ouzos and rakis, which Turks boldly sip throughout their meals.

Any excuse to go authentic.