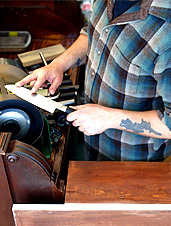 Lately, you've noticed things have been getting a little... dull.
Especially where your knives are concerned.
So let us introduce you to the city's newest (and possibly best) knife sharpener,
Bernal Cutlery
, open now at the brand-spanking-new 331 Cortland Marketplace.
Bring in your knives, and blade master Josh Donald will sharpen them on site, by hand. No machines are involved—just these special Japanese stones, like the supremely fine Suehiro Rika 5,000 grit (the Jessica Alba of Japanese stones), and a modified version of a barber's leather strop.
Should you find yourself thinking "I can do that," you'll be happy to know Josh will take you under his wing for one-on-one lessons. (Be sure to ask him what's in his case—he's likely to be carrying something called
higonokami
, folding knives that are basically badass Japanese switchblades.)
If all this metal talk makes you hungry (sushi's tools of the trade understandably have that effect), you'll want to walk straight back to Paulie's for a beer-braised beef brisket sandwich on marble rye.
Feel free to slice it yourself.