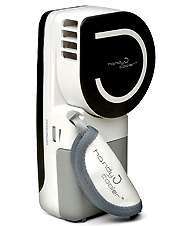 Summer is coming, and you know what that means: all-day mojito tastings on yachts.
Also: extreme heat.
And this year, we wanted to make sure you're prepared. Which is why we're using today's dispatch to call your attention to a very special type of portable air-conditioning unit known as the
Handy Cooler
, now available online.
We won't go into all the science behind this deceptively formidable soldier of gadgetry, but the main thing you need to know is that the Handy Cooler is capable of cooling off the air around your head and body by as much as 30 degrees, and all it requires from you is a few AA batteries, the ability to place a wet sponge in a wet-sponge-holding compartment... and a little bit of belief.
When the sweltering months of May, June, July and that dog-day-afternoon-creating beast that is August arrive, this is what you'll want to have near your side as you go about your typical Miami business: sunbathing on the 50th floor of the Viceroy, piloting a skiff through the Everglades and catching a Marlins game in the visitors' dugout as a personal guest of Tim Lincecum.
Or just sitting on your patio, reading some emails.