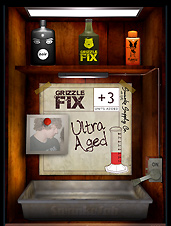 Ah, the darkroom.
A place where legends were created. Where dreams were born. Where your instinctive genius for the visual image was nurtured and fostered into what it is today.
Also: it's where you developed photos.
Here to help you relive some of those memories:
SwankoLab
, an iPhone app that lets you develop your digital photos, darkroom-style, available now.
In short, it's a digital shortcut that lets you give your pics the TLC that, not so long ago, only a darkroom could provide. Start with a picture that practically demands a sun-bleached embellishment—your in-depth exploration of European-style sunbathing comes to mind—and you'll see it hung on a line just like in a real photo lab. Then, it's time to put on your goggles and go to work. (Goggles optional.)
You'll pick treatments ("Vinny Vignette" darkens the edges), and watch as virtual canisters pour the chemicals into an animated basin. Once you've got a formula that looks about right, hit an on-screen light switch, wait for the timer and then watch as your picture ripples and absorbs the treatment. Give a little shake to your phone, and your picture's developed.
You never knew how a darkroom worked anyway.