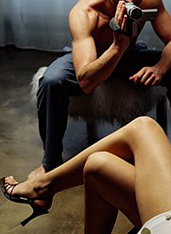 In the olden days, freelance photographers wore dress hats with cards marked "Press" in them, lugged around huge cameras and had names like "Jimmy Olsen."
Now, it's just the closest dude with a camera phone.
Introducing
Field Agent
, a new iPhone app that lets you hire people for simple intelligence-gathering assignments (read: picture-taking gigs), now available.
Picture it: you and some friends are wrapping up a day at the Sox game (it's the eighth inning, and the good guys are up three runs), and you're wondering about the scene at Drink. You can use Field Agent to quickly find someone in the area to snap a picture of the inside of the bar and send it to you, and it'll set you back between $2 and $15.
Of course, the app is nationwide, so you could also use it to get a picture of the exterior of that penthouse you've been eyeballing in Chicago. Or you could find a field agent to get over to that sale on Newbury Street and give you a better idea of the level of deals going down.
You could even use the app to start tackling your own freelance photo assignments for $2 a pop.
Okay, maybe not.