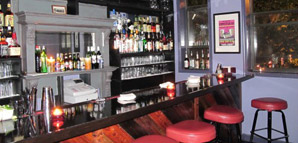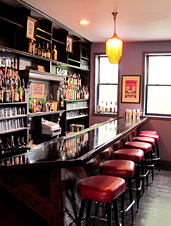 As you've no doubt noticed, U Street has been having a renaissance of late.
And while you're cool with high-concept joints and destination dance halls, sometimes you just want a place with cheap beer, a free barstool and maybe, just maybe, some West Virginia-approved grub.
Somewhere like
Dodge City
, soft-open now for those nights when some more straightforward, accoutrement-free drinking is in order.
Stroll into this brick-lined former soul food kitchen—don't let the awning that says "America's Bounty" throw you—and you'll half expect to see
Deer Hunter
-era De Niro and Walken hanging out. (Assuming they were into DJs, which they undoubtedly were.)
Walk past some oil paintings of vintage cars, and commandeer a few of the vinyl stools at the tiny bar. There, you'll have your pick of a dozen well-curated tap beers, or more direct options like High Life in the bottle. In coming weeks, expect a short menu that includes soft pretzels alongside pepperoni rolls imported from West Virginia. (Home of the fine pepperoni roll.)
Properly fueled, you'll then head upstairs to check out the rotating cast of DJs. Here, you're in good hands, as the bookers are veterans of the Velvet Lounge next door and the Black Cat. The bar's name, in fact, was inspired by a 1980s release from locals the Go Go Posse, "DC Don't Stand for Dodge City."
You're not in Kansas anymore.