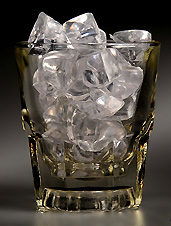 Pretty soon it will be summer.
There will be the usual scorching Miami heat, and you will be thirsty.
But instead of reaching for a beer, a martini or even something as outrageous as a bottled water, we've found a fresh alternative to cool you off—and don't be surprised if it looks a little familiar...
Introducing the
FrostShot
, Miami's first alcoholic icy pop, now available.
FrostShot is what you'd get if you crossed the cooling refreshment of a snow cone with the mature pleasures of your favorite cocktail. The product is the brainchild of local guys who honed the pops through exhaustive pool-party field research (what some guys will do for science...).
Just like the icy pops of your misspent youth, you'll want to store these in the freezer and introduce them to your bikini-clad houseguests whenever you get the feeling that everyone needs something icy and tasty to suck on. You'll be happy to know the pops come in five tropical flavors like Caribbean Passion, Extreme Lime and Cherry Bomb.
The only difference is these contain a liqueur that makes the pops 10% alcohol.
The chance of brain freeze is still dangerously high.