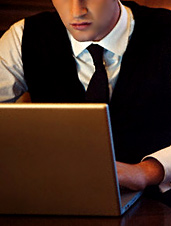 Marathon Monday is over.
Which means today will largely be a day spent catching up on all those ignored messages from your work and private email accounts, Facebook, Twitter and, of course, Friendster.
It'd be nice if there were something to get all those important missives in one place.
There is: introducing
Threadsy
, now in private beta.
Threadsy is a new website that allows all your emails, IMs and other various Internet hoo-ha to come together and play nice. It's sort of like a website/communal sandbox.
To get going, simply sign up for an account, enter the usernames and passwords of all your stuff—it works with Gmail, Yahoo!, Hotmail, AOL, Facebook and Twitter, among others—and Threadsy will place them at your fingertips in one spot.
Emails go on the left, social media on the right, and Threadsy updates everything in real time—so you'll instantly get that "I need pudding" tweet from Bob at 3pm... and that "I didn't need so much pudding" tweet from Bob at 3:27pm.
But maybe the most exciting aspect of Threadsy is the way it acts as an enhanced personal screener. Let's say you got the email of a sassy marathon enthusiast while out at the bars yesterday. Just enter her email into the address bar, and up comes a bio, recent images and all of her accounts on Twitter, LinkedIn, Facebook and even MySpace.
Although if she still has an active MySpace account, that may be all you need to know.