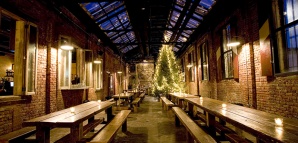 As the winter draws near, the ups-and-downs of the cold season make planning your outdoor drinking difficult. Not to worry.

Opening next week in Williamsburg, Radegast Hall & Biergarten is all your central-European fantasies rolled into one: 24-oz pints, more lagers than you can count, and most importantly, a retractable roof that leaves no doubt that you'll always be imbibing under optimal conditions.

When you step inside, you'll suddenly find yourself in a Vienna beer hall circa 1890, complete with a portrait of two Kaisers overlooking your half-liter of lager. (Never trust a Kaiser.) Sidle up to the twisting wraparound bar, grab a half-liter of Hofbrau (there are 13 lagers on tap) and don't forget the appetizers—luckily, the Austrian version of bar food is steak tartare and roast quail. Auf Wiedersehen, beer nuts.

Of course, the real revelry happens at the "garden" behind the bar. That's where you'll get some fresh air through the ten open skylights, grab the best German sausages from the grill at the back, and work on some international relations. If you want something heartier, there's Veal Schnitzel, Porterhouse Steak or Roast Pork Loin, all brought out on a plain wooden cutting board.

Don't forget to say danke schön.