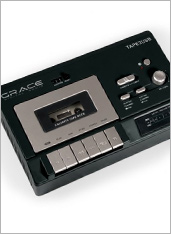 It's time.
Time to get in the car. Hit the road for the weekend. And on the way, maybe fire up a couple of old mix tapes. On your iPod.
Allow us to explain...
Introducing the
Grace Tape2USB
, a miraculous piece of technology that helps turn your old cassettes into MP3s, available now.
First off, you should know: it's not the most beautiful piece of equipment you've ever brought into your home. (So it goes with '80s-related technology.) But the function should atone for that a bit: you plug it into your computer, play an old audiocassette, and your computer will magically turn the songs into MP3s.
So let's say you stumble onto an old mix tape in your vault. ("Awesome Mix #12" deserves a second listen.) You can upload it, convert the files via some included software, plug it into iTunes and relive the summer of '97 all over again. ("MMMBop": timeless.) Or you can dig up that old cassingle of "Any Way You Want It" and drop it on your computer, hisses and pops perfectly in place.
Keep a pencil on hand in case any tape gets loose.