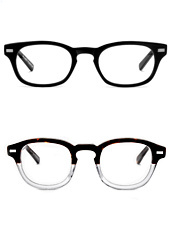 Today, let's consider your face.
It's been praised by art critics. Esteemed by strangers on the street. Adored by world leaders.
And it's best not to mess with success. But sometimes, well, nature intervenes...
Which brings us to
Warby Parker
, a new online brand of slyly handsome eyewear that lets you try before you buy, available for your eyesight needs now.
In short, it's like a car dealership, with a hint of Netflix... but for glasses. You'll go to their site, where you'll have your pick of dozens of sharp frames, from the smart-shaped
Miles
(Mr. Davis would have approved) to the tortoiseshelled
Roark
, which look like what James Dean would've worn if he'd lived long enough to require reading glasses. They also offer a monocle, dubbed
Colonel
, in case you've been hired to play the villain in the next Bond movie or are the understudy in a production of
Mr. Peanut: My Life
.
But if you're somehow uncertain you can pull off a monocle (trust us, you can), you'll also have two ways you can try on your frames before you commit. There's a "virtual try-on," in which you upload a picture and put the glasses on your digital face. Or, starting later this month, there's a "home try-on," where Warby will send you some sample frames for free. You can wear them around to find out if you're really the Miles type.
Or if you're more of a Coltrane type.