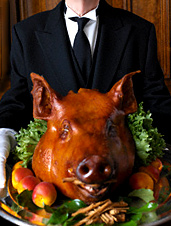 Pork. Too much of it can get you into trouble around here, what with all those investigative journalists and good-government types snooping around.
So listen up, because we know people are eavesdropping: we know of a place with lots of pork. An entire pig's worth, to be precise.
Introducing the
Sunday Pig Roasts at TenPenh
, beginning this week as the Pennsylvania Avenue power spot gets downright tiki-esque.
You've long known TenPenh as a spot to rub elbows with cabinet secretaries, but now it's where you'll cap your weekend with nose-to-tail carnivorous delights. Your whole-hog odyssey begins the night before, when Philippine-born chef Cliff Wharton dry rubs the 60-pound beast and brines it with garlic, oranges, soy and sake. At precisely 1:30pm on Sunday, he sets it atop a Chinese box roaster on the patio for four hours to bring some smoky charcoal flavor to the party.
You can arrive as early as 3pm to grab a bucket of San Miguel, catch a glimpse of your dinner and put in an early request for skin or trotters (call them earmarks if you like). When 5:30 hits, Wharton will reveal the hog in all its splendor, before carving it up into family-style portions, served along with three sauces and traditional Filipino sides like pancit noodles, braised green beans and steamed buns.
You'd lobby for this.