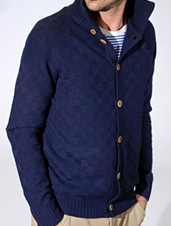 You trust the Brits with the formal stuff.
Savile Row suits, bench-made shoes, afternoon tea.
But today we'd like to send word of a new, more casual brand of British style. They're called
Folk
, and they're bringing their modern, edgy weekend-wear from London to San Francisco for the first time, right now at Unionmade.
Brought to you by a team of eight—two designers and six avid zealots/devotees—working in a studio behind their London shop, everything in the collection can be traced back to handpicked mills and factories from around the world: shoes made of Italian leather in a family-owned factory in Portugal, jackets tailored in Hong Kong and merino sweaters from Uruguay.
It's the kind of slightly off-kilter gear—pants, shirts, sweaters and shoes—that you'll want to wear for spontaneous bouts of midday champagne consumption, casual Tuesdays in the Marina and a Sunday in Dolores Park.
All the pieces are built with clean lines and a good dollop of whimsy: "almost" cardigans, lightweight overshirt/jacket hybrids and sweatshirts with elbow patches on the inside that are perfect for standing out, but not in an outlandish way.
That would require elbow patches on the outside...