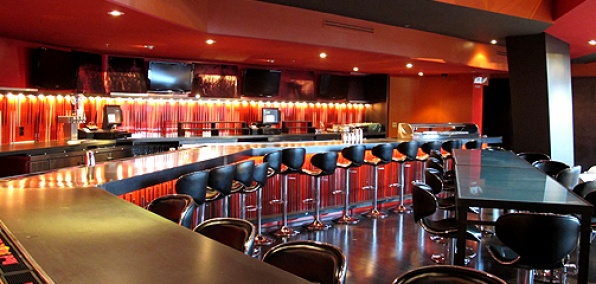 You don't ask much from your sushi bar: fresh fish, cold sake and the occasional chef who makes swords in his spare time.

But you've noticed lately that something is missing: namely thundering guitars, Steven Tyler... and possibly herds of groupies.

Then welcome Sushi Rock, opening Monday in Arlington to sate your appetites for both raw fish and regular doses of screaming hard rock.

The place feels like the remnants of a 1980s Japanese tour by AC/DC, if only they kidnapped a chef and raided half the Tokyo fish market before they left. (Actually, they might have done that...)

You'll enter past wall-sized images of a Les Paul and a leg clad in fishnets and leopard heels, and immediately be tempted by the low lounge seating in zebra print and laced-up faux leather. Resist. The real action is at the steel bar, lined with iron rebar in front and hundreds of drumsticks in back.

The DJs will play nothing but headbanging classics, treating you and your (possibly fishnet-clad) date to nonstop power chords while you choose between the Pink Floyd (salmon ceviche with cucumber salad) and the Dream On Roll (bacon, kimchi and sundried tomato).

But rock star that you are, you'll need some substances. May we suggest one of the Asian-themed cocktails, like their spin on a mojito, with lemongrass-infused rum, shiso leaves and sparkling sake.

Just flick your lighter when you're ready for another round.