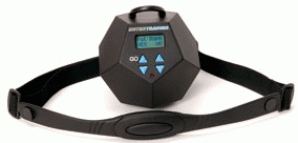 It's day four of the new year and you still haven't made good on your promise to get in better shape. Between that last "outdoor jog" to dodge the rain and your latest exploratory trip to Equinox where you got stuck behind a heavyset, sweating creature of a man you fear could be your future, it's no wonder you've just resigned yourself to watching marathon episodes of My Name is Earl.

Which, as it turns out, means you've unknowingly taken the first step towards losing weight, as we at UD discovered when we came across a little device known as The EnterTrainer—which ingeniously uses your love for the tube against you.

You put a strap around your chest, use the control ball, embedded with a universal remote, to power your TV (or any other electronic device like a stereo or video game), and start engaging in whatever living room cardio you desire (treadmill, rower, jumping jacks). If the EnterTrainer catches you slacking, it'll lower the volume on your set and if you don't pick up the pace, it'll turn off the TV entirely, which is why, admittedly, it took us an hour to get through the first Earl episode.

The device also increases the volume if you're running faster than your target range, so if you've got a girlfriend who likes to talk through football games, playoff season may get you in the best shape of your life.