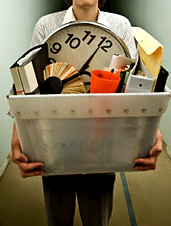 There are as many reasons to quit a Washington job as there are Washington jobs.
Wanting to "spend more time with family." Perhaps your boss has suggested one too many tickle fights. Or maybe you feel that by quitting, you can better serve the people of Alaska. (Actually, that sounds more like someone applying for a job in Washington, but we digress...)
Whatever the reason, you need a way out. And you need one now.
Enter
iQuit
, a new online tool to help you instantly unburden yourself of any situation, sans conflict.
Consider this a big step up from the "I'll call you" style of breakup, or that resignation letter you plan to send to the office as soon as you set up your surf school in Maui.
The process is, as they say, turnkey. You'll start at the home page, where you'll enter in your email address and that of your boss. Then, wait a minute for a confirmation message (and a last chance at changing your mind). When you click the link within, you're done.
The Man will get a fresh, witty missive within minutes, informing him that, for instance, "Perpetuating our pantomime is neither fair nor sagacious to its cast of characters" and that your "decision in this matter is inflexible."
You perpetuate a pantomime for no one.