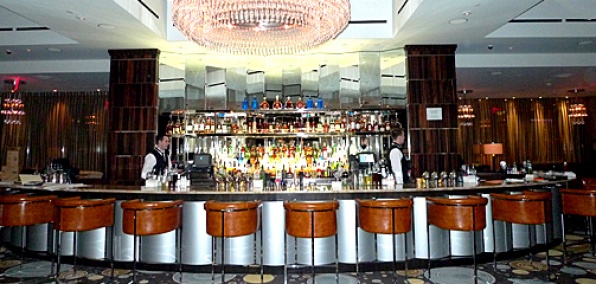 Today, we're going big.

Sure, you have your holes-in-the-wall, upscale dives, unmarked back rooms and truly tiny underground escapes that you've consumed cocktails in over the years.

But forget about all that for just a moment.

Instead, focus your attention on a giant new stunner smack dab in the middle of... everything.

Introducing The Empire Room, a massive, '20s-inspired vintage cocktail lounge on the ground floor of the Empire State Building, debuting this afternoon for the 5pm martini you so richly deserve on this gray day.

Owned by the old-school gentleman behind Grand Central's Campbell Apartment, Empire feels like the kind of bar that was built 85 years ago, but was somehow never used (preserving that new-bar smell). It's decked out with all manner of art deco tricks—polished steel, crystal chandeliers, patterned carpets, velvet chairs—creating the sort of elegant, big room built for liquid lunches and post-work cocktail celebrations.

And you'll be happy to know the menu is 90% booze and 10% upscale bar snacks (like Truffled Popcorn and Miniature Wellingtons) so you can focus on classic cocktails like the Waldorf (Rittenhouse Rye, Carpano Antica Formula, absinthe and Manhattan bitters) and the Martinique Daisy.

Which is really more about rum than flowers.