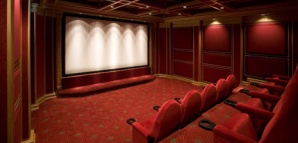 Earning bank is hard. Spending it can be just as difficult—which is where
The Blow List
comes in with the best, most ridiculous yet necessary ways to blow your stash.
Just as fine art needs an exquisite frame, your blockbuster needs an appropriately impressive screening.
And needless to say, five speakers won't suffice.
Introducing the
Goldmund Media Room
, a custom home-theater system starting at $300,000 that's built around an extra-wide screen and 128 speaker channels that fully capture and isolate the sounds of every note, every dropped pin and every 130-decibel explosion of your masterpiece. That's more channels than in most commercial theaters, which often engulf you in the same noise from multiple sources. Not to mention seat you next to the inconsiderate cell-phone guy.
Goldmund rooms are the product of a rather ominous-sounding program called PROTEUS, which analyzes the dimensions of your existing space to configure the ideal setup. The Swiss company handles everything from technological components to overseeing construction. They'll even make site visits, so you won't have to cut lunch short to ensure your contractor called your designer about the acoustics-appropriate seats.
And in case you forget the important stuff, there will also be space for caramel popcorn, your favorite producer friends and the starlets you met last weekend who can't
wait
to see
your masterpiece
.
Everyone's a critic...