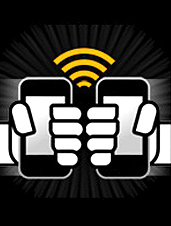 Last year,
we killed your business cards
. Now, we've come for the rest of the wallet.
Here to replace all your cash and credit cards: your fist.
Introducing
PayPal for iPhone
, which literally turns a friendly fist bump into cold, hard... encrypted bank transfers.
Okay, it's safe to assume you're pretty familiar with PayPal already (you couldn't have purchased that Abe Lincoln-shaped potato chip on eBay without it). But here's where PayPal's iPhone incarnation takes a life-altering turn: it incorporates Bump, which you know as that ingenious motion-detecting technology, developed by two University of Chicago grad students, that lets people exchange their contact information by touching phones.
So when your friend insists on paying for dinner with his credit card (guess who just got a miles card?), you can send him your share by cueing up your respective iPhones, selecting the amount you owe and bumping fists (which, obviously, are holding the phones), and that's it. The app even calculates the check, the tip and each person's share.
But if you're the one paying—and your friend doesn't have an iPhone—the app can send a bill to your friend's email address so he can reimburse you via PayPal when he gets home.
If that doesn't work, then we suppose it's time to get both of your fists involved.