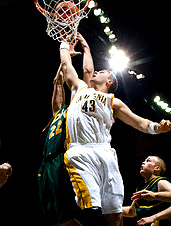 Tomorrow, you will no doubt indulge in some green beer, Blarney Stones and perhaps some light leprechaun wrestling.
But come Thursday, it's time to get down to serious business. Like pretending to work while watching the tournament.
Which brings us to SF-based
FanPulse
, a website and iPhone app that helps you discreetly long-distance trash talk with your buddies, available now for March Madness and any other sports-related mayhem that crosses your path.
Brought to you by a team of guys from Digg and ESPN, this thing handles the basics—you pick your favorite team, and then you can get scoring updates by text message or just follow the game live on your phone. But what makes it stand out is that while the game plays, you can text, tweet and generally harass your friends every time Jerome Randle sinks an inevitable string of three-pointers.
So let's say you're planning on watching Friday's Cal game, but your meeting runs late and you can't sneak out to Greens in time for tip-off. Log in, scroll down to the game and "check-in," which will alert your friends that you're watching. (Word to the wise: don't friend your boss.) As the game proceeds, you'll be able to "shout" (basically a sportier form of tweeting) about every blocked shot, behind-the-back pass and blown call.
Consider it your e-foam finger.