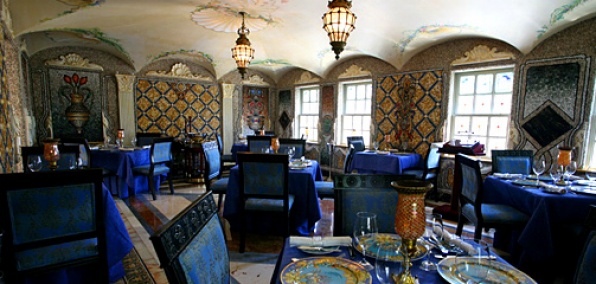 You've always been a fan of the Versace Mansion, and you've always wanted it to succeed.
Yet the place has been plagued by instability and you never knew what you were getting behind those wrought-iron gates.
All that's just changed:
The Villa by Barton G.
is now open, returning the fortress of Italian swank back to its rightful place as South Beach's most opulent pleasure den.
First, let's get a few things straight. Event guru Barton G. Weiss has taken over the entire castle-turned-hotel—from the $5,000-per-night suites to the Moroccan spa. But we're guessing unless you're Oprah Winfrey reading this (and if you are, hey, Oprah, what's up, girlfriend), you'll probably get most of your use out of the newly polished restaurant, an indoor-outdoor Gothic mind-blower that the G. man has restored to its former glory.
Grab that date you've been asking out for two years now (wearing people down is an underrated form of seduction) and start off with a drink at the Tiffany bar overlooking the pool (you know...the one tiled with 24-karat gold). If it's a nice night, you'll want to proceed to the arched courtyard, where you'll feast on
luxe eats
like
Wagyu New York Strip
and
Lobster With Lobster-Stuffed Tortellini
.
You know you're in a special place when the lobster is stuffed with lobster.