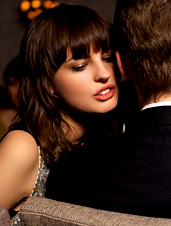 You're a citizen of the world.
Trips to Africa with President Clinton and Ashley Judd. Weekends spent casinoing in Monaco. The ability to say "Come here often?" in 18 languages.
But every so often, you run into something that trips you up. Like how to say "Come here often?" in a 19th language.
Which brings us to
SpeakLike
, an online service that keeps a team of international translators on call for when international crises (or opportunities) arise.
Now let's be clear: we know you have your choice of virtual (and, typically, automated) online translation services. But this one keeps 3,000 real-life translators fluent in 35 languages at your beck and call—basically your own private United Nations. So whether you need help with your next round of arms-reduction treaty negotiations or securing a one-on-one cross-cultural encounter in a Prague hotel room, you'll be able to get through it with maximum efficiency and minimum embarrassment.
After registering, you'll be able to have all your emails to the Ukraine translated (for tax purposes), translate your tweets about your new favorite restaurant in Minsk or have your personal website made readable for your fans in Rio. (Brazilian fans can be so appreciative.) Prices go up if your translation is urgent (negotiating a cross-border peace between Guyana and Suriname) or very urgent (negotiating an across-the-hall visit with that Icelandic diplomat).
Diplomacy can be so delicate.