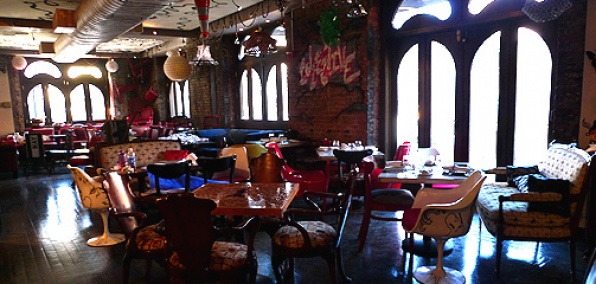 The Meatpacking District is a zone of incessant nightlife one-upmanship.
And while you've had an up-and-down, volatile, love-hate tryst with the cobblestoned precinct, somehow, against all odds, you still thirst for more.
Well, today we bring news of more: a new player called
The Collective
that's anti-bottle service, covered in all manner of crazy pop art and brought to you by the folks behind
STK
and
Bagatelle
. And it's opening Monday and taking reservations right now. Be afraid...
Picture the sort of giant art-gallery warehouse (the space is basically one big room with a bar at one end and tables throughout) that the Mad Hatter might curate, add some booze and
Short-Rib Stroganoff
, and you start to get the picture of what's going on at the Collective. There's art made out of slot machines, mechanical sculptures tacked to the ceiling, lighting that looks like robotic jellyfish and chairs made out of old street signs and streetlights (art imitating traffic).
It's the sort of whirling dervish, high-energy spot you'll drop in on when you're looking to ramp up for a night out with some chicken and waffles (the
Harlem
, on the
menu
). Or where you'll end up at 3:30am for some
Blue Cheese Tater Tots
and
Disco Fries
after a particularly harrowing night spent banquette surfing in the neighborhood.
Blue cheese tater tots make everything okay.