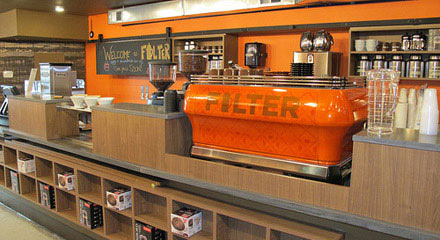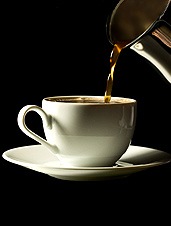 Over the years, you've come to rely on an inner circle of experts and trusted advisors. (Let's call them your cabinet.)
Your butcher. Your Savile Row-trained haberdasher. Your mini-golf caddie.
What you need, then, is that same level of expertise from the person who's guiding the most important decision of your morning: what coffee to drink.
Presenting
Filter Coffeehouse & Espresso Bar
, providing you with a customized caffeine fix beginning this Friday in North Dupont.
Basically, it's a sommelier for your morning joe. You'll walk into the place—nothing fancy, but you're grabbing and going anyhow—and find owner Rasheed Jabr. He will begin guiding your quest for the perfect cup of coffee by asking you one key question: what's your poison?
If you're a pilsner fan, he might recommend a citrusy, acidic Kenyan roast. If you like to quaff scotch, he might pick a bold Guatemalan brew. And if you lean toward Yoo-hoo, he may suggest a mocha with a couple pumps of Peruvian chocolate. (It's what Peruvians do best.)
Of course, there are other times you might want a little jolt of energy, like before your date at the Russia House. So you'll want to stop in for a quick evening cappuccino and a fresh ficelle (basically a small baguette) with butter and jam.
Followed by a double vodka chaser.
Note:
<a target="_blank" href="http://www.filtercoffeehouse.com/">Filter Coffeehouse & Espresso Bar</a>, opens this Friday, 202-234-5837