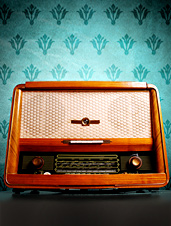 You've got your opinions. Good ones, mostly—about important subjects like martini olives, high heels and the vagaries of sushi rice.
What you don't have: a forum worthy of your elevated viewpoints. (The soapbox in Lafayette Park has its limitations.)
And so, it's about time you create your own.
Which brings us to
Spreaker,
a new website that helps you produce and broadcast your own online radio show to the mobile masses.
Basically, this thing is to your budding broadcasting career what a tape recorder and a stack of dirty magazines were to a young Howard Stern. Name your show (something like "Radio Free Dupont") and give yourself a nom de radio (anything with "Wolfman" should do). Then use the virtual studio to drag-and-drop sound effects, cue up your own intro music and, of course, record your melodious voice.
As for what to record, that's up to you. Scare the hell out of the country, Orson Welles-style. Dip into the music library of 600-plus artists before talking up your West Virginia weekend to the tune of "Take Me Home, Country Roads." Or, as is current custom, simply pontificate on what's best for America (we'd like to hear you explain your plan to convert the US economy to the pork belly standard).
Once you've mastered the fader, podcast the show to your disciples in waiting, or stream it live for those who can't wait.
We can't promise any payola.