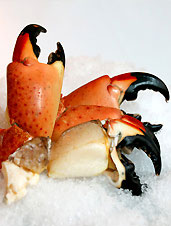 You've never feared the sea.
Instead, you've relished wading in to perform great feats of heroism, swim vast channels and go full Zissou on a few legendary sharks.
For that, you deserve all the bounty the oceans have to offer.
Especially if someone else is willing to bring you that bounty on a platter...
Welcome to
George Stone Crab Home Delivery,
now bringing freshly caught Florida crabs to your door.
First off, we need to be clear on something: these are real, freshly caught stone crabs, brought forth by fishermen aboard one of George's 80 fishing boats in the Florida Keys—basically a crustacean-oriented version of the Coast Guard.
You'll start by placing an order on the website (go with the colossal claws—you've earned it) and then, once one of George's fishermen catches a crab, he'll tear off the claws, throw the body back into the ocean (their claws grow back within a year), and toss the sweet harvest into a cooler. And within a day or so, that cooler will arrive at your door. (Try to act surprised.)
When your goods arrive, they'll come with some mustard sauce for dipping and, if you want, some key lime pie. (You want.) But that's all window dressing compared to the meal itself—a foam box chock-full of ice-cold stone crab claws, uncracked, but with a mallet included so you can powerfully unsheathe the stone crab meat at your table.
In case your mallet's in the shop.