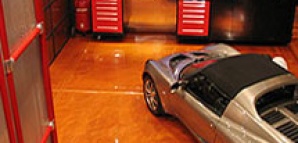 You've designed the inside of your home to look more or less the way you want it: a sleek blend of art, furniture and flat screen.

Now on to the new frontier: your garage.

Turning your car's home into a place you might actually want to hang out in, GarageMahals is the world's first company dedicated to complete garage transformations. Much more than new-flooring specialists, they'll turn your dusty automotive space into your own personal showroom—or better yet, your own personal Bat Cave. Their garage architects—garachitects?—use computer modeling to fully visualize the area before anything gets built. Potential tricked-out installations include lifts and turntables to move the cars around, and a lounge and bar for spending some quality time with friends. (Sure beats a gazebo.)

With carpentry skills rivaling Kurt Russell's in Overboard, nothing is out of the realm of possibility. In the past, GarageMahals has turned garages into replicas of Venetian courtyards, '50s diners and New York alleyways, and they'll throw in anything else you can dream up, like fountains, waterfalls, catwalks and hidden stairways.

And, no, they don't do bathrooms.