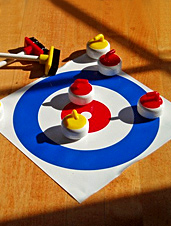 Time and time again, you find yourself returning to the pageantry and swan-like grace of one great winter Olympic sport.
Yes, curling.
After being around for 500 years, this rock-throwing ice sport is having a bit of a moment (the Russian women's team must be a happy coincidence).
If only you could dig deeper into the heady world of ice shuffleboard. If only…
Say hello to the
Desktop Curling Set,
a tiny, portable training ground perfect for soaking in all the elegance, cutthroat athleticism and Canada-ness of curling.
Essentially, it's a shrunken version of the curling pitch perfect for your first pre-ice foray into this sport of kings. You get six stones, two mini brooms (that, in a stroke of sheer genius, double as scorekeeping pencils) and a target that rolls out and sticks to a flat, smooth surface (your desk, the deck of a yacht, a gritty back alley with other chaps throwing dice).
You will of course be using it as a springboard for your bid to make the US Olympic team heading to the 2014 Winter Games in Russia. But a little competition can also come in handy if you're in negotiations that are at an impasse, if you need to blow off some steam or if you're looking for a potent new cocktail activity.
Inviting the Russians is up to you.