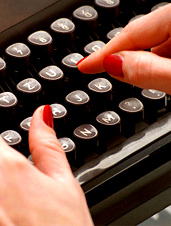 EXT. THE 101 FREEWAY – NIGHT
Fade in:
A solitary writer sits forlorn behind the wheel, lost in a vast landscape of red brake lights in the dark shadow of Hollywood. Precious seconds—minutes, hours—are passing pointlessly by.
Until the revelation: now's the perfect time to deploy a nimble English typist to help you complete your next masterpiece, while you remain hands-free in gridlock. Introducing the
d2u Transcriber
app, now available for the iPhone.
Just speak into the app before you forget your moment of immobile inspiration (it'll work with
Bluetooth, so it's Cali-friendly), and when you're done recording, your words are instantly shipped off to Manchester, where one of the UK's 450 finest will immediately get to work transcribing. At any time of the day.

If you've spoken for less than five minutes, you'll have a doc back in less than an hour. Longer than five minutes may take them a few hours more, but you're charged by how long you talk, not how long they take.

Of course, you could also use this for love letters, business memos, legal screeds...

And your Oscar speech, obviously.