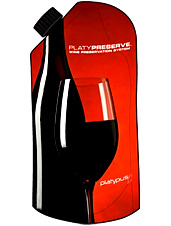 For too long now, the flask has been primarily thought of as a liquor reservoir.
But as much as you enjoy a good swig of gin/vodka/whiskey, you know there are other alcoholic fish in the sea. Like wine.
And finally, someone has had the sense to put it in a modern, flexible container.
Meet the
PlatyPreserve Wine Preservation System,
essentially a giant flask to cart around your wine while retaining its optimal deliciousness, available now.
Forget the silly name. This puppy should come in handy the next time your refined palate craves a little Pinot during a concert at Fenway, or while you're watching a regatta along the Charles (or in the conference room in about an hour...basically, anytime you feel like drinking wine).
It couldn't be easier to use: simply pour in your vino, squeeze out all the excess air (this is why the container's flexibility is crucial) and seal the cap. (Tip: do this slowly lest you want to wear your wine.) And just like that—no more bottles clinking in your bag.
And because you've gotten all the oxygen out, the big ol' flask will preserve your precious cargo for not just hours, but days.
Now all you need is a flask for your cheese.