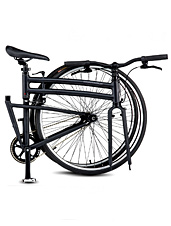 Ever since Kevin Bacon's spellbinding performance as a stock trader-turned-bike messenger in
Quicksilver,
you've always had a thing for the urban road bike.
So when last weekend's pleasant weather reminded you of a season called "spring," the time seemed right to start looking at your new-bike options, provided those options were: a) cutting-edge, b) born from the mind of an MIT wiz and c) named after Beantown.
Introducing
The
Montague Boston,
the world's first full-size single-speed folding bike, available at Wheelworks in March but now taking early orders online.
If James Bond owned a city bike, it would function a lot like this. Created in Montague's Cambridge studio by founder David Montague, an MIT grad, it's based on a bike that was originally designed for tactical paratroopers who needed a lightweight, rugged mountain bike with immediate all-terrain mobility. (Boston's cobblestones are not unlike an enemy-lined desert trail.)
And because instant escapability is often critical to the success of your nightlife missions, the bike folds up in less than 20 seconds and can easily fit in the trunk of your car.
It's also ideal for '80s-music-enhanced living room spins...