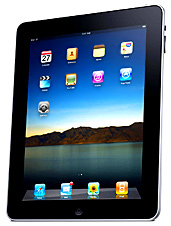 Between Bode Miller's gold, last night's awe-inspiring hockey win and Lindsey Vonn's … Lindsey Vonn-ness, we understand if you're feeling a little extra patriotic today.
But if we were to tell you about an inside guy whose goal is to get you cool gear before anyone else can, and that that guy happens to be Russian, well... Howdy, comrade.
Welcome to
PreOrder.it,
a new site devoted to letting you know about gadget deals before anyone else does, online now.
In short, it's like knowing a guy who knows a guy, and that guy happens to run a somewhat shady-looking website in the mother country. Here's how it works: you look up whatever soon-to-be released camera, phone or hot-tub time machine you want, and then the site will send you an email when it's available. So far, so good.
But what takes it to the next level is that the site is also working with a few (so far secret) gadget makers to get you an early in on online bargains. And while we don't know yet if this will net you, say, a prerelease look at the iPad—it's listed on the site, but we'd say you've got a better chance of scoring an interview with J.D. Salinger—let's just say that you'll be the first on your block to get a hoverboard.
And we're nearly certain it won't be bugged by the KGB.