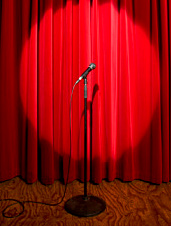 So you can talk the talk.
You've lit up a room with a wry wedding speech and inspired a few colleagues with a glorious rendition of Ace Ventura's famous soliloquy.
But to truly be considered in the company of the great orators and incendiary wordsmen of the recent past, you need to walk the walk as well.
You need their secret weapon.
You need your own teleprompter.
Introducing
EasyPrompter,
a Web-based teleprompter available now to keep you on script for whatever you want to say out loud to other people.
If you've always felt that your speech lacked a certain pomp and circumstance, this oratorical caddie should finally allow you to shred your 3x5 note cards and instead parade your finely tuned prose (or your lunch order) across your screen as scrolling rhetorical gold.
Which means you'll be well-equipped for the next company retreat, bachelor party toast or address to this week's visiting trade association (the proper pace and timing of a speech made to the National Beer Wholesalers is critical).
All you have to do is choose how fast you want the words to scroll, choose where to insert pauses and highlight a few important passages in yellow.
And because the software is browser-based, you can use it on your iPhone or BlackBerry, for those more intimate situations where persuasion is still critical.
Like last call, for instance.