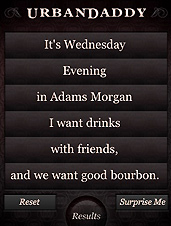 Let's put this in Rumsfeldian terms.
Until now, you've gone to war (or gone out for crab cakes and ale, anyway) with the app you have, not the app you want.
Those days, we're happy to tell you, are over.
Step back and behold the wonder of UrbanDaddy's iPhone app,
The Next Move,
now live in DC.
In the same way we're there to tell you about the newest dim sum bar to grace with your presence this weekend and the best place to grab a fireside bourbon afterward, this little technological marvel stands in for us wherever we can't be (in your pocket, for instance) with real-time, on-the-go, filtered recommendations.
What that means for you is that you've now got immediate answers to all your most pressing questions. Like where to get a cup of strong coffee
and
a Bloody Mary at 10am on a Tuesday. Or what's the next move if you find yourself seducing your boss after work in Adams Morgan. We'll even tell you where to schmooze a few old and stodgy lobbyists (sometimes the legislative sausage gets made over plates of actual sausage).
For those days when your aide-de-camp is on vacation...