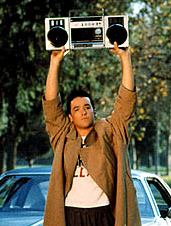 Throughout history, the romantic gesture has typically had one key component: lying. Also: music.
Think of the serenade. The mixtape. Blasting "In Your Eyes" from a boom box held high under the window.
And now, the digital equivalent:
8tracks
, a website where you can create, share and listen to short-and-sweet playlists, online now.
In short, it's an easy way to turn someone else's creativity into a good impression—just in time for Sunday's Hallmark holiday. (To be clear: we mean next Sunday, not the Super Bowl.)
You'll be greeted by 24 pictures, each of which is the cover for a mix someone else has already made. Start by listening to a couple for inspiration—we think
this one
ought to get you in the right frame of mind.
Then, you'll create a single 30-minute mix—not a single minute shorter—from your own collection of tunes, or from the site's extensive online library. Go ahead, take your time—it can take hours to find the perfect bridge between that Al Green slow jam and...that Barry White slow jam. (Hint: don't underestimate the staying power of "Careless Whisper.")
Once you're finished, you'll be ready to post—but not before picking a carefully chosen cover photo.
Time to pull a Scott Brown in
Cosmo
.