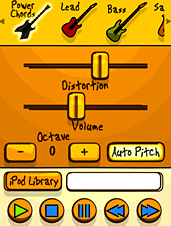 Those horrible
American Idol
auditions
.
Your drunk aunt at the piano every single holiday. "Party All the Time" by Eddie Murphy.
When nonmusicians try to be musicians, it can get ugly.
But in spite of this, you just can't avoid the fact that you've got a whole concert of epic melodies in your head just dying to be recorded.
Introducing
Voiceband,
the new iPhone app allowing you to sing or hum into your phone and record full music tracks, replete with guitars, drums, synths and vocals. And you don't even need Rick James as a producer.
Here's how it works: just download Voiceband from iTunes, and select an instrument. Say, electric guitar (with reverb, distortion and delay effects to get all Radiohead-y). Using your voice as input, the app converts the sound in real time while you sing or hum your best Jimmy Page power chords and records it on a single track (if nobody is looking, feel free to start with "Stairway"...).
The same goes for the other instruments (your Doug E. Fresh beatbox skills will be well-employed here). And for vocals, you can even import MP3s from your phone's music library to sing over (to get those Journey notes
just
right), layering it all together for playback as your rock dreams are realized with a touch of the screen.
We think this is how Moby started.