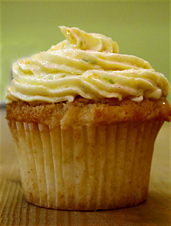 Liquor must be protected.
Whether it's a flask,
a scotch locker
, a wall safe behind your Picasso or your wooden leg, any would-be pirates have to go a long way to pilfer your whiskey.
But we're here to tell you there's another option, one that's just as stealthy, but more...utilitarian, edible, chocolaty.
Introducing
Liquor-Infused Cupcakes at Fancy Cakes by Leslie,
now available for order to bring your Valentine's Day dessert and your nightly cordial together at last, like a glorious edible flask.
Now, before you compare this to your grandmother's rum cake, know this: Leslie adds in the booze after the cupcakes are baked—they're brushed with liquor, injected with high-test ganache and topped with boozy buttercream icing.
As for which liquor, well, that's up to you—these may well be the first fully bespoke boozy cupcakes around. Just give the shop a couple days' notice, and you can serve vanilla-Glenlivet cupcakes as part of your Super Bowl spread. Or deliver a few red velvet cupcakes, soaked in Chambord, on Valentine's Day.
If all these options are too much for you, off-the-rack French chocolate cupcakes spiked with Woodford Reserve will be available for pickup beginning next week.
That should tide you over until your next...bourbon.