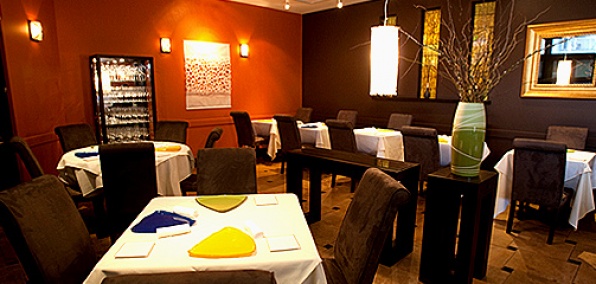 There's big news coming out of Silicon Valley this week.

And we're not referring to the rumblings about Steve Jobs' latest shiny toy. We're talking about something much more important—your dinner.

Which just got a little more high-tech with molecular gastro-centered Baumé Restaurant, opening on Thursday in Palo Alto.

Brought to you by Michelin-starred chef Bruno Chemel (most recently of Chez TJ and La Suite) and named after a famous 18th-century French chemist, Baumé is like a mad scientist's lab disguised as a quiet white-tablecloth eatery: fastidious enough for your next game-changing business dinner (or, starting in a few weeks, lunch), but with crazy culinary experiments happening just below the surface.

The space itself is all about Zen simplicity—there's no menu, just a list of the ingredients Chemel is using that day. All you need to do is decide whether you want five, 10 or 15 courses (hint: the five or 10 are for the weak). Then the complexity begins: Chemel will switch on his nitrogen tanks and Pacojet to turn out molecular delicacies like striped bass sous-vide, minute sponges of chocolate and caviar-like spheres of warm goat cheese.

And lest you think you're only going to eat foams and cubed concoctions, every now and then Chemel will land something like a juicy prime beef filet with chanterelles and truffle jus on your plate.

Because when it comes to steak, you don't mess with perfection.