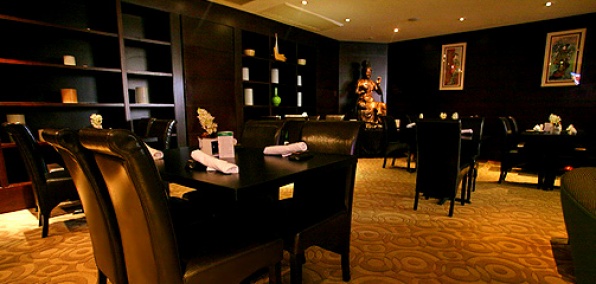 A good sushi den is like the best maki roll: all the components neatly bound together in one perfect package.

Meaning: dim sexy lighting (check), cushy leather chairs (got that) and a vintage British sports car nearby (we'll explain).

Say hello to Sushi Lounge, your new hidden sushi den on the ocean, now open at the Trump resort in Sunny Isles.

First things first: the hidden part. You'd probably walk right past this dark and sexy raw-fish cove if you were making your way through the lobby of the beachfront resort. You'll find it on the other side of the lobby bar, with low ceilings and a circular marble sushi counter giving it a subterranean Tokyo den vibe.

Grab a table in the back corner underneath the golden Buddha, order a carafe of sake and prepare to dig in to a menu of 45 rolls and combos like the Fairfield Roll, composed of fried crab meat, whitefish and eel. These aren't prepped by amateurs, either—the owner helms half a dozen sushi restaurants in the Hamptons and was wooed to South Florida by the developers behind the skyscraper.

Which brings us to the red 1962 Heinkel Trojan "bubble car" parked near the entrance. It's a gem from one of the developers' private stash and provides a nice bit of eye candy on your way out.

Think of it as the fatty tuna belly of vintage cars.